South Korea´s expanding regional and global roles: challenges and perspectives
Palavras-chave:
Coreia do Sul. Papel regional e internacional. Desafios e perspectivas.
Resumo
Nas últimas quatro décadas, a República da Coreia (Coreia do Sul ou Coreia) transformou-se de um país pobre, com uma sociedade agrária dilacerada pela guerra, em uma nação industrial e moderna, líder em importantes áreas, como tecnologia da informação e inovação. Apesar do notável desempenho nacional, o papel da Coreia como ator regional e global era considerado pouco expressivo até os anos 1990. Com o fim da Guerra Fria e a consolidação de suas bases diplomáticas, a política externa da Coreia passou por rápidas transformações; seu escopo tornou-se global e incluiu o que tem sido chamado "diplomacia de cúpula", com o objetivo de fortalecer as relações já existentes e iniciar novas parcerias e projetos de cooperação para o século XXI. Em nível regional, a Coreia tornou-se membro ativo da Asean+3, da Apec e de outras organizações; desde 2008 mantém cúpulas trilaterais anuais com a China e com o Japão, e em setembro de 2011 Seul tornouse sede do Secretariado para a Cooperação Trilateral. Poucos anos após ingressar na ONU (1991), em novembro de 1995 o país foi eleito membro não permanente do Conselho de Segurança e recentemente foi novamente eleito para o período de 2013-2014; em 2006 o diplomata coreano Ban Ki-moon foi eleito o 8o secretáriogeral da ONU, e em junho de 2011 teve seu mandato renovado até 2016. Estas e outras importantes conquistas evidenciam o papel assertivo da Coreia como ator regional e global. A fim de fortalecer a cooperação com parceiros já estabelecidos e com países emergentes, a Coreia propõe as seguintes políticas e estratégias: expansão do mercado exportador, atração de IED, consolidação do comércio bilateral e intensificação dos laços com os principais parceiros.  Entretanto, além de seu inegável sucesso econômico e conquistas políticas nos panoramas regional e global, variáveis externas desempenham importante papel na determinação da Coreia de ampliar seu papel de ator regional e global: as políticas domésticas e internacionais e as consequentes estratégias a serem desenvolvidas pela China, pelos EUA e pelo Japão, bem como as relações futuras entre esses três países. As relações entre os EUA e a China, em particular, irão determinar futuros acontecimentos no Leste Asiático. A China é hoje o maior parceiro comercial da Coreia, mas este país depende dos EUA para sua segurança e apoio militar. Portanto, espera-se que o novo governo coreano mantenha uma estratégia de pêndulo em suas relações com a China e com os EUA e, ao mesmo tempo, neutralidade no que se refere à s relações entre Japão e China.
Downloads
Não há dados estatísticos.
Referências
CHAIBONG, Hahm. South Korea´s Miraculous Democracy. Journal of Democracy, v. 10, n. 3, p. 128-142, July 2008.
CHOE, Sang-Hun. Departing South Korean Leader Creates Furor with Pardons. The New York Times, Jan. 29, 2013.
CHUNG, Kyung-young. Evaluation of the Lee Myung-bak Administration's Foreign Policy and Recommendations for the Next South Korean President. The 3rd East Asia Situation Assessment Workshop, IISEA affiliated with NACSI, September 8, 2012. Available: .
ECONOMIST INTELLIGENCE UNIT (EIU). Democracy index 2012: democracy in retreat. The Economist Intelligence Unit's Index of Democracy 2010, A Report of the Economist Intelligence Unit, London, 2012.
GUIMARAES, Lytton L. South Korea´s Foreign and Security Policies: some implications for East Asia Integration and for Latin America, paper presented at the UCLA-CKS Joint Research Project-II 2011 Conference, Los Angeles, May 5-6, 2011.
HUNTINGTON, Samuel. The Third Wave: democratization in the late 20th century. Univ. of Oklahoma Press, 1992, 366 p.
JAPAN, MOFA. Japan-China-ROK Trilateral Summit, "Joint Statement for Tripartite Partnership", Fukuoka, 13 December 2008. Available: <http://www.mofa;go.jp/region/asia-paci/jck/summit/html>.
______. www.japan.or.jp.
JWA, Sung-Hee. The evolution of large corporations in Korea. Cheltenham, United Kingdom: Edgar Elgar, 2002.
KALINOWSKI, Thomas; CHOI, H. Korea´s search for a global role between economic interests and soft power. 2012. Available: .
KIM, Dae-jung. New Challenges for the Korean Peninsula and Northeast Asia: The Role of the Republic of Korea and the United States. The Council on Foreign Relations, Transcript, New York, June 8, 1998.
KIM, Samuel S (Ed.). Korea´s democratization. New York: Cambridge University Press, 2003.
KIM, Taehyun. Engaging the estranged reciprocity and cooperation on the Korean Peninsula. Journal of East Asian Studies, v. 3, n. 2, p. 169-197, May-Aug. 2003.
KIRK, Donald. Kim Dae-jung controversial bid for "sunshine. Christian Science Monitor, Aug. 18, 2009.
KOREA. Republic of. Presidential Commission for Policy Consultation, 1998, The Great Transformation and the Direction for Reform [in Korean], Seoul, The Kim Dae-jung Government: The Sunshine Policy. Seoul, South Korea: Millenum Books, 1999. p. 37-39.
KOREA. MOFAT. Diplomacy with Latin America and the Caribbean. Ch.3. Diplomacy for Global Network. 2009. Available: . Accessed: 18 Nov. 2010.
______. MOFAT. Two years of Roh Moo-hyun administration. Achievements and challenges. Seoul, Korea: Korean Overseas Information Service, 2005. Available: <http://www.mofat.go.kr>. Accessed: 21 Nov. 2010.
______. MOFAT. Korea´s Foreign Policy in 2008. Diplomatic White Paper 2009, Part 1, Ch. 2. Available <http://www.mofat.go.kr>.
______. MOFAT. Korea´s Foreign Policy 2010. Diplomatic White Paper 2010. Available: <http://www.mofat.go.kr>.
______. Cheong Wa Dae (Presidential Office). Available: <http://english.president.go.kr/m>.
LEE, B. J. Selling South Korea: Lee Myung-bak wants to move his country to the center of the world. Newsweek, Jan. 16, 2010.
LEE, Jung-bock. Overview of Democratization in the Republic of Korea. Democratic Consolidation in the Republic of Korea: progress and challenges. Washington, DC: The Broodings Institution, February 2, 2009.
MCKINSEY GLOBAL INSTITUTE (MGI). Beyond Korean Style: Shaping a new Growth Formula. April 2013. Available: .
NOBEL PRIZE ORGANIZATION. nobelprize.org/nobel_prizes/peace/laureates/2000/DAE-jung-bio.html; Kim Dae-jung Presidential Library and Museum. Available: <http://eng.kdjlibrary.org/main.html>. Accessed: 13 Jan. 2010).
SHIN, Gi-wook. The Paradox of Korean Globalization. Asia-Pacific Research Cener, Stanford University, CA, 2003. Available: .
SNYDER, Scott. The end of history, the rise of ideology, and the future of democracy in the Korean Peninsula. Journal of East Asian Studies, v. 3, n. 2, p. 199-223, May-Aug. 2003.
SONG, Sang-ho. Lee Myun-bak leaves Cheong Wa Dae with mixed scorecard. The Korea Herald, 22.02.2013, Asia News Network. Available: .
SOUTH KOREA. Korean Development Institute (KDI). Economic Outlook 2013 First Half. Available: <http://kdi.re.kr/kdi/eng/database/report>.
______. MOFAT. White Papers 2006.
THE SOCIETY for Northeast Asian Peace Studies. The Kim Dae-jung Government: The Sunshine Policy. Seoul, South Korea: Millenum Books, 1999.
WALSH, Bryan. Leaders & visionaries: Lee Myung Bak. Time, in partnership with CNN. Available: . Accessed: 18 Jan. 2011).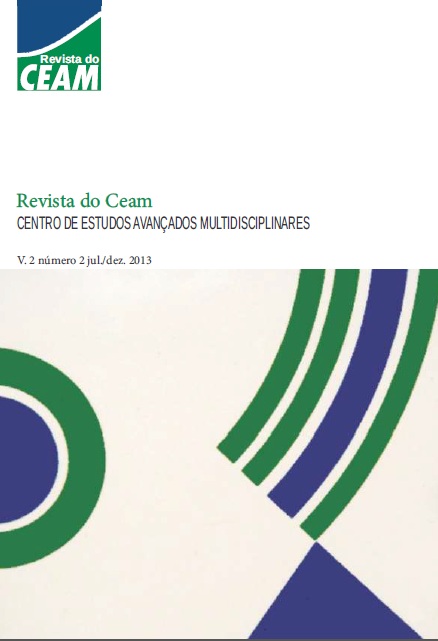 Downloads
Como Citar
Guimarães, L. L. (2013). South Korea´s expanding regional and global roles: challenges and perspectives. Revista Do CEAM, 2(2), 61–82. Recuperado de https://periodicos.unb.br/index.php/revistadoceam/article/view/10054
Licença
Autores mantém os direitos autorais e concedem à  Revista do CEAM o direito de primeira publicação, com o trabalho simultaneamente licenciado sob uma Licença Creative Commons - Atribuição 4.0 Internacional, permitindo o compartilhamento do trabalho com reconhecimento da autoria do trabalho e publicação inicial nesta revista.