Pancha rathas, os cinco templos de pedra do sítio de Mahabalipuram
Oportunidade de reviver sua herança de jardins perdidos por meio do ecoturismo
Palavras-chave:
Mahabalipuram; jardins tombados; Five Rathas; arquitetura Pallava; Patrimônio em pedra
Resumo
O patrimônio e o desenvolvimento da paisagem podem ocorrer dentro do procedimento de montagem do patrimônio. O estudo apresenta um caso de patrimônio em pedra, caracterizado por um importante patrimônio intangível do canto védico que, por sua vez, está ligado à  floresta litorânea e à  arquitetura do templo Pallava. O objetivo é pesquisar diversas fisionomias sobre o que existe de oportunidade no contexto natural e seu papel no patrimônio edificado e no ecoturismo. A metodologia inclui uma extensa revisão da literatura de textos anteriores e coleta de fatores-chave desses dados literários e pictóricos para análise comprovada de evidências históricas. Os resultados foram desenvolvidos a partir de uma abordagem científica sobre o caso em que a etnologia, a tecnologia antiga e o estilo arquitetônico podem ter perdido sua autenticidade e integridade devido ao desmatamento robusto do patrimônio do jardim ao longo de diferentes cursos de tempo devido à  ausência do conceito de limite e zona tampão. O estudo revelou três grandes oportunidades para realizações sustentáveis "‹"‹futuras neste local histórico: importância de uma rede eficaz compreendendo autoridades e partes interessadas; o excesso de turismo também pode ser considerado uma maldição para a paisagem local por causa da rápida urbanização e, finalmente, da generosidade ecológica, recuperação de áreas e necessidade de agregação uma forte legitimação para justificar a zona tampão e os limites do local de todas as direções possíveis.
Downloads
Não há dados estatísticos.
Referências
ABHIYAN, I. Prepare pelims lecture 42, art and architecture. Explore: https://www.iasabhiyan.com/prepare-prelims-2017-day-42-art-culture/. 1:45pm. 23rd June, 2017.
AYYAR, P. JAGADISA, V. South indian shrines: illustrated. New Delhi: Asian Educational Services, 1982. Page 157.
BRADNOCK, R. BRADNOCK, R. Footprint índia. California: Patrick Dawson publishers, 2009, p. 700-701.
BRUYN, P., KEITH, B., ALLARDICE, D.; JOSHI, S. Frommer's India. London: John Wiley & Sons. 7 February 2013. Page 333
CHARI, S. SRINIVASA, M. Philosophy and theistic mysticism of the alvars. NewDelhi:Motilal Banarsidass Publishers. 1997.
CHATTOPADHYAYA, B. A social history of early India. New Jersey: CSC and Pearson Education. 2009. pp. 31""32
DONIGER, W. The hindus: na alternative history. Oxford: Oxford University Press, UK. 2010.
FERGUSSON, J. BURGESS, J. CHAPTER V. Mahavallipur or the seven pagodas, the cave temples of India. London: W. H. ALLEN & Co. 1880. Pp, 105-113.
HERMANN, K. ROTHERMUND, D. A history of India. Oxford: Routledge (UK). 2005. page 105
HOWES, J. Colin Mackenzie, the Madras School of Orientalism. New Delhi: Oxford University Press, 2002. Pp. 53""66.
KAMIYA, T. UNESCO WORLD HERITAGE. Tokyo: Kodan-sha publishers. Vol. 5. 1997. http://www.kamit.jp/02_unesco/05_mahabali/mah_eng.htm, retrieved at 5:45pm. 30 July, 2017.
LIVINGSTON, M. BEACH, M. Steps to water: the ancient stepwells of India. Montreal: Princeton Architectural Press, 2002.
MICHELL, G. The Hindu Temple: na introduction to its meaning and forms. Chicago: University of Chicago Press. 1977. pp. 131-134
MOFFETT, M. FAZIO, M. W.; WODEHOUSE, L. A world history of archtecture. Toronto: McGraw-Hill Professional press ltd. 2003.
NAGASWAMY, R. Mamallapuram: monumental legacy. New Delhi: Oxford University Press India. 2010. Pp. 81-83.
PARKER, S. K. Unfinished work at mamallapuram or, what is na indian art objetc? Zurich: Journal of Artibus Asiae, Musuem Reitberg. Vol. 61, No. 1. 2001. pp. 53-75
PRASAD, J. D. History of the Andhras up to 1565 AD. Guntur: P G publishers. 1946. Page 68.
RÖSSLER, M., Background document on UNECO World Heritage and Cultural Landscape. UNESCO Wordl Heritage Centre. FAO Workshop and Steering Committee Meeting of the GIAHS project: Globally Important Ingenious Agricultural Heritage Systems. http://www.fao.org/tempref/agl/agll/giahs/WorldHeritage_CulturalLandscapes_MechtildR oessler.pdf, retrieve at 9.19 am 5 June, 2017.
SINHA, K. Kartikeya in indian art and literature. New Delhi: Sundeep Prakashan. 1979.
STABAUER, M., ARIKAN, I. UNESCO World Heritage Sites. A case of study of the palace of Schönbrunn: Tourism's contribution to world heritage site management. Vienna: No.5. 2014. Pp. 45-58.
STEIN, B. The economic function of a medieval South indian temple, jornal of asian studies. Cambridge: Cambridge University press (UK). Vol. 19, No. 2. 1960. pp. 163-176
SUNDARESH, A. GAUR, S.; TRIPATI, S.; VORA, K. H. Underwater investigations of mahabalipuram. [ed]. Dona Paula, Special Section: Underwater Cultural Heritage Current Science. Goa: National Institute of Oceanography, VOL. 86, NO. 9. 2004. pp. 1231-1237
TRIPATHI, R. S., History of ancient India. New Delhi: Motilal Banarsidas Publishers, 1942. p. 491.
ZVELEBIL, K. V. The Smile of muragan on tâmil literature of South India. Leiden: E. J. BRILL publishers (Netherlands). 1973. p. 46.
_________________. The sound of the one hand. Connecticut: Journal of the American Oriental Society, Vol. 107, No. 1. 1987. pp. 125-126.
Websites
ANGULA. Explore: https://www.wisdomlib.org/definition/angula, retrieved at 7:43am. 7 May, 2016.
ARCHAEOLOGICAL SURVEY OF INDIA. Explore: http://asi.nic.in/asi_monu_whs_mahabalipuram.asp, retrieved at 14:25pm 20 May, 2016.
GEOLOGY AND INDIA, FROM 1770 TO 1851. A STUDY IN THE METHODS AND MOTIVATIONS OF A COLONIAL SCIENCE. Explore: htt
p://www.academia.edu/6773429/Geology_and_India_1770 1851_a_study_in_the_methods_an d_motivations_of_a_colonial_science, retrieved at 3:33pm. 8 May, 2016.
ICOMOS International Scientific Committee on cultural landscapes. Explore: retrieved at www.icomos.org/landscapes/index2engl.htm, retrieved at 11:58pm. 2 May, 2016.
REVISION OF THE OPERATIONAL GUIDELINES FOR THE IMPLEMENTATION OF THE WORLD HERITAGE CONVENTION: REPORT OF THE EXPERT GROUP ON CULTURAL LANDSCAPES. La Petite Pierre: France (24 - 26 October 1992). [WHC-92/CONF.202/10/Add) Explore: https://whc.unesco.org/documents/publi_wh_papers_07_en.pdf, retrieved at 10:25am. 18 May, 2016
REPORT OF THE INTERNATIONAL EXPERT MEETING ON CULTURAL LANDSCAPES OF OUTSTANDING UNIVERSAL VALUE. Templin: Germany (12 - 17 October 1993). WHC93/CONF.002/INF.4. Explore: https://whc.unesco.org/archive/repcom93.htm, retrieved at 19:15pm. 30 May, 2016
TEMPLES BY THE SEA. Explore: https://frontline.thehindu.com/arts-and culture/heritage/temples-by-the- sea/article9604415.ece, retrieved at 9:28am. 27 May, 2016
TEMPLES ARCHITECTURE DIFFERENT STYLES. Explore: https://www.speakingtree.in/blog/temple-architecture-different-styles, retrieved at 19:28pm. 28 May, 2016
UNESCO WORLD HERITAGE MAHABLIPURAM. Explore: http://www.kamit.jp/02_unesco/05_mahabali/mah_eng.htm, retrieved at 17:32PM. 22 May, 2016
UNESCO LIST FOR INDIAN ARCHITECTURE. Explore: http://whc.unesco.org/en/list/249/documents/, retrieved at 16:23pm 21 May, 2016.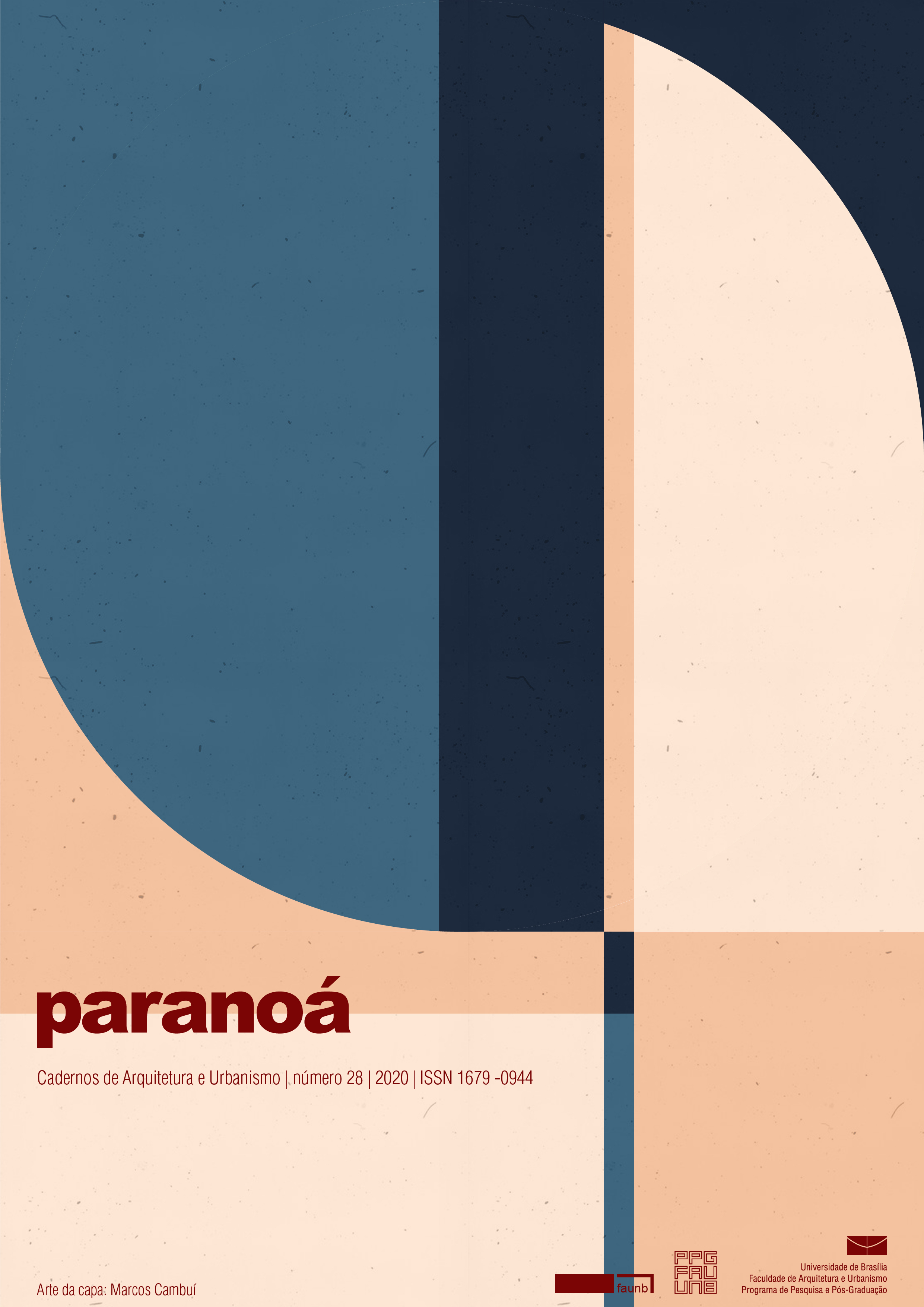 Downloads
Como Citar
Ahmed, S. (2020). Pancha rathas, os cinco templos de pedra do sítio de Mahabalipuram: Oportunidade de reviver sua herança de jardins perdidos por meio do ecoturismo. Paranoá, (28). https://doi.org/10.18830/issn.1679-0944.n28.2020.07
Seção
Teoria, História e Crítica
Licença
Copyright (c) 2020 Paranoá: cadernos de arquitetura e urbanismo
Este trabalho está licenciado sob uma licença
Creative Commons Attribution 4.0 International License
.
Autores que publicam nesta revista concordam com os seguintes termos:
Autores mantém os direitos autorais e concedem à  revista o direito de primeira publicação, com o trabalho simultaneamente licenciado sob a Licença Creative Commons Attribution que permite o compartilhamento do trabalho com reconhecimento da autoria e publicação inicial nesta revista. http://creativecommons.org/licenses/by/4.0
Autores têm autorização para assumir contratos adicionais separadamente, para distribuição não-exclusiva da versão do trabalho publicada nesta revista (ex.: publicar em repositório institucional ou como capítulo de livro), com reconhecimento de autoria e publicação inicial nesta revista.
Autores têm permissão e são estimulados a publicar e distribuir seu trabalho online (ex.: em repositórios institucionais ou na sua página pessoal) a qualquer ponto antes ou durante o processo editorial, já que isso pode gerar alterações produtivas, bem como aumentar o impacto e a citação do trabalho publicado (Veja O Efeito do Acesso Livre).