Questões correntes na pragmática social
Palavras-chave:
Pragmática social; Consciência linguística; Gênero e linguagem; Línguas ameaçadas de extinção; 'Conscienticização'; Pragmática antecipatória; Ecologia da linguagem.
Resumo
O ensaio defende a necessidade de uma renovada consciência do ser humano no uso da linguagem: uma ecologia humana da linguagem, como se poderia chamá-lo. O rótulo "social" destina-se a captar o fato de que o usuário humano é central em todos os aspectos das políticas de língua, nos esforços para salvar as línguas em perigo e aumentar a conscientização da linguagem ('conscienticização), no que concerne à s questões de linguagem e gênero, abuso de linguagem, e assim por diante. Argumenta-se ainda que o uso da linguagem emancipatória deve incorporar um aspecto antecipatório, pelo que se apresenta e pelos efeitos previsíveis das políticas lingüísticas que são colocados dentro das situações da vida real dos usuários. (são discutidos dois casos reais, um do Brasil e outro da Índia,).
Downloads
Não há dados estatísticos.
Referências
CAVALCANTI, Marilda. 2001. 'Collusion, resistance, and reflexivity: Indigenous teacher education in Brazil'. In: Heller & Martin-Jones, eds. pp. 317- 333.
Ethnologue, Languages of the World. 2007 (M. Paul Lewis, ed.). Dallas: SIL International. (17th ed.)
FAIRCLOUGH, Norman. 1992. Critical language awareness. Longman, London.
FRANK, Francine Wattman & Paula A. Treichler (eds). 1989. Language, gender, and professional writing: Theoretical approaches and guidelines for nonsexist usage. New York: The Modern Language Association of America, Commission on the Status of Women in the Profession.
FREIRE, Paulo. 2000. Pedagogy of the oppressed. (trad. Myra Bergman Ramos). New York: Continuum.
HAUGEN, Einar, 1972. 'The ecology of language'. In: Dil, Anwar S. (ed.), The Ecology of Language: Essays by Einar Haugen. Stanford, Calif.: Stanford University Press. p.325-339.
Heller, Monica & Marilyn Martin-Jones, eds. 2001. Voices of authority: Education and linguistic difference. Westport, Conn.: Greenwood Press.
Heritage, John. 2007. Territories of Knowledge, Territories of Experience: (Not so) Empathic Moments in Interaction. Keynote speech at the XVth Symposium About Language and Society, Austin (SALSA), Austin, Tex., April 14, 2007.
Heritage, John & Sefi, Sue. 1992. Dilemmas of advice. In: Paul Drew & John Heritage, Talk at Work: Interaction in Institutional Settings. Cambridge University Press, Cambridge. pp. 359-417.
Iedema, Rick. 2009. Discourse research that intervenes in the quality and safety of care practices. Plenary Talk, 2d International Discourses and Cultural Practices Conference, Sydney, 7-9 July 2009.
Kamio, Akio. 1994. The theory of territory of information: The case of Japanese. Journal of Pragmatics 21(1): 67""100.
Kamio, Akio. 1995. Territory of information in English and Japanese and psychological utterances. Journal of Pragmatics 24(3): 235""264.
Kamio. Akio 1997. Theory of territory of information. John Benjamins, Amsterdam & Philadelphia. (= Pragmatics and Beyond, Vol. 48).
Ladefoged, Peter. 1992. 'Another view of endangered languages'. Language 68(4): 809-811.
Levinson, Stephen C. 2000. Presumptive Meanings: The theory of generalized conversational implicature. Cambridge, Mass.: MIT Press.
Mey, Jacob L. 1976. Qualifcation, emancipatory language and pragmatic linguistics. In: Fred Karlsson, ed.. Papers from the Third Scandinavian Conference of Linguistics. Ã…bo/Turku: Academy of Finland. pp. 245-269.
Mey, Jacob L. 1979. Towards a critical theory of language (original in German: Zur kritischen Sprachtheorie). In: J.L.Mey, ed., Pragmalinguistics, theory and practice. Mouton, The Hague. pp. 411-434.
Mey, Jacob L. 1985. Whose language? A study in linguistic pragmatics. Amsterdam & Philadelphia: Benjamins. (Pragmatics and Beyond Companion Series, 3)
Mey, Jacob L. 1994. How to do good things with words: A social pragmatics for survival. Pragmatics 4(2): 239-263.
Mey, Jacob L. 2001. Pragmatics: An introduction. Oxford & Malden, Mass.: Blackwell. (Second ed.) [1993]
Mey, Jacob L. 2010. Anticipatory pragmatics. Paper read at the Third International Workshop on Emancipatory Pragmatics, Japan Women's University Tokyo, March 24-27, 2009. (forthcoming in Sachiko Ide & Neal Norrick,
eds. Special Issue on Emancipatory Pragmatics. Journal of Pragmatics, vol. 42).
Norrick, Neal R. 2009. Contribution to Discussion, Third International Workshop on Emancipatory Pragmatics, Tokyo, March 24-27, 2009. Tokyo: Japan Women's University.
Pragmatics and Society (Jacob L. Mey, Kerstin Fischer & Hartmut Haberland, eds.) Amsterdam & Philadelphia: John Benjamins. (Volume 1, 2010)
Sarangi, Srikant. 2009. The research-practice conundrum: Rethinking 'translational research' in professional discourse studies. Plenary Talk, 2d International Discourses and Cultural Practices Conference, Sydney, 7-9 July 2009.
Signorini, Inês. 2009. Emancipatory Linguistics. In: Jacob L. Mey, ed., Concise Encyclopedia of Pragmatics. Elsevier, Oxford. pp. 237-239. (Second Ed.)
Spender, Dale. 1980. Man made language. London: Routledge and Kegan Paul. Textor, Robert B. 2009. Practicing anticipatory anthropology with Austrian national leaders. Anthropology News, 50(1), January 2009. p. 21. (See also www.stanford.edu/~rbtextor)
Treichler, Paula A., Richard M. Frankel, Cheris Kramarae, Kathleen Zoppi & Howard B. Beckman. 1984. 'Problems and Problems: Power relationships in a medical encounter'. In: Cheris Kramarae, Muriel Schulz & William M. O'Barr, eds., Language and power. Beverly Hills & London: Sage. pp. 62-88.
Treichler, Paula A. & Francine Wattman Frank. 1989. 'Introduction: Scholarship. feminism, and language change'. In: Frank & Treichler 1989: 1-34.
van Dijk, Teun van. 1993. Principles of Critical Discourse Analysis. Discourse and Society 4(2): 249-283.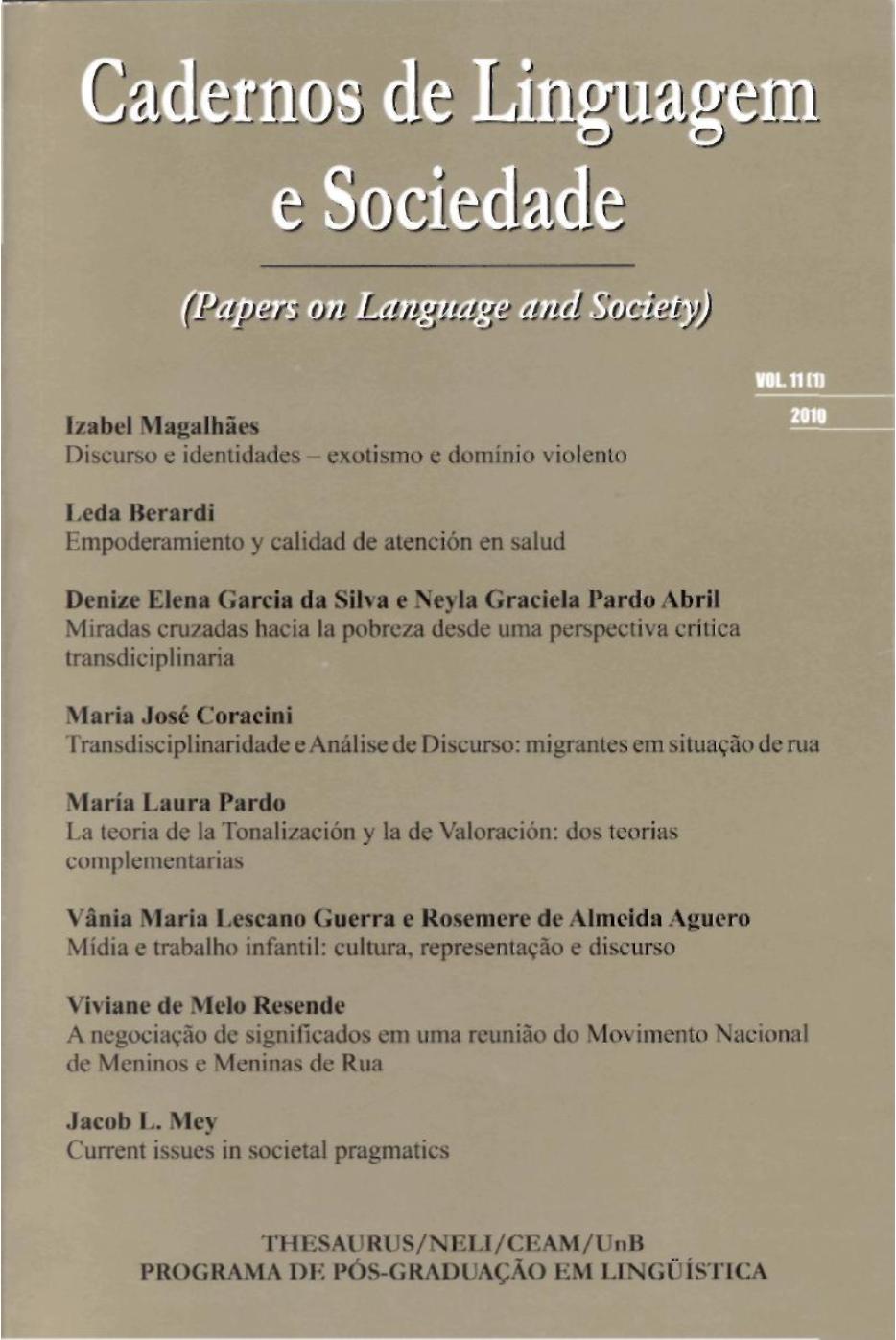 Downloads
Como Citar
Mey, J. L. (2010). Questões correntes na pragmática social. Cadernos De Linguagem E Sociedade, 11(1), 195–218. https://doi.org/10.26512/les.v11i1.9762
Licença
Autores/as que publicam nesta revista concordam com os seguintes termos:
Autores/as mantêm os direitos autorais e concedem à revista o direito de primeira publicação, sendo o trabalho simultaneamente licenciado sob a Creative Commons - Atribuição-NãoComercial 4.0 Internacional o que permite o compartilhamento do trabalho com reconhecimento da autoria do trabalho e publicação inicial nesta revista.