PROJETO DE EXTENSÃO UNIVERSITÁRIA EM SAÚDE BUCAL DE PACIENTES COM DIABETES MELLITUS DO DEPARTAMENTO DE ODONTOLOGIA DA UNIVERSIDADE DE BRASÍLIA – RELATÓRIO DE EXPERIÊNCIA
Oral health of Diabetes patients extension project of the Department of Dentistry, University of Brasilia
Palavras-chave:
Diabetes Mellitus, Repercussões bucais, Doença Periodontal, Hipossalivação, Cárie dental
Resumo
Muitas incertezas ainda existem na relação entre diabetes mellitus e alterações bucais, particularmente quando há controle glicêmico insuficiente. O "Projeto Diabetes" do Departamento de Odontologia, Universidade de Brasília, objetiva investigar e tratar manifestações bucais do Diabetes em pacientes com diabetes tipo 1 e 2, em comparação com pacientes sistemicamente saudáveis, reestabelecendo e mantendo sua saúde bucal. Os dados clínicos analisados incluem hipossalivação e outros parâmetros salivares, doença periodontal, problemas endodônticos, hálito cetônico e doença cárie. Após o desenvolvimento da saúde bucal, os pacientes entram no programa de prevenção e manutenção periódicas. Este projeto faz uma contribuição
original para o entendimento do impacto do diabetes e do controle glicêmico na prevalência das condições bucais e na qualidade de vida.
Downloads
Não há dados estatísticos.
Referências
ALMUSAWI, M. A.; GOSADI, I.; ABIDIA, R.; ALMASAWI, M. et al. Potential
risk factors for dental caries in Type 2 diabetic patients. Int J Dent Hyg, 16, n. 4, p. 467-475, Nov 2018.
BAKSHI, D.; KAUR, G.; SINGH, D.; SAHOTA, J. et al. Estimation of Plasma Levels of Tumor Necrosis Factor-a, Interleukin-4 and 6 in Patients with Chronic Pe- riodontitis and Type II Diabetes Mellitus. J Contemp Dent Pract, 19, n. 2, p. 166-169, Feb 2018.
BASCONES-MARTÍNEZ, A.; GONZÁLEZ-FEBLES, J.; SANZ-ESPORRÍN, J.
Diabetes and periodontal disease. Review of the literature. Am J Dent, 27, n. 2, p. 63-67, Apr 2014.
BASCONES-MARTÍNEZ, A.; MUÑOZ-CORCUERA, M.; BASCONES-ILUN-
DAIN, J. [Diabetes and periodontitis: A bidirectional relationship]. Med Clin (Barc), 145, n. 1, p. 31-35, Jul 2015.
CABANILLAS-BALSERA, D.; MARTÍN-GONZÁLEZ, J.; MONTERO-MI-
RALLES, P.; SÁNCHEZ-DOMÍNGUEZ, B. et al. Association between diabetes and nonretention of root filled teeth: a systematic review and meta-analysis. Int Endod J, 52, n. 3, p. 297-306, Mar 2019.
CAMARGO, G. A.; LIMA, M. E. A.; FORTES, T. V.; DE SOUZA, C. S. et al.
Effect of periodontal therapy on metabolic control and levels of IL-6 in the gingival crevicular fluid in type 2 diabetes mellitus. Indian J Dent Res, 24, n. 1, p. 110-116, 2013 Jan-Feb 2013.
CARRAMOLINO-CUÉLLAR, E.; LAURITANO, D.; SILVESTRE, F. J.; CA-
RINCI, F. et al. Salivary flow and xerostomia in patients with type 2 diabetes. J Oral Pathol Med, 47, n. 5, p. 526-530, May 2018.
FOIA, L.; TOMA, V.; UNGUREANU, D.; AANEI, C. et al. [Relationship diabe- tes mellitus-periodontal disease: etiology and risk factors]. Rev Med Chir Soc Med Nat Iasi, 111, n. 3, p. 748-753, 2007 Jul-Sep 2007.
GRAVES, D. T.; KAYAL, R. A. Diabetic complications and dysregulated innate immunity. Front Biosci, 13, p. 1227-1239, Jan 2008.
HAYASHI, J.; HASEGAWA, A.; HAYASHI, K.; SUZUKI, T. et al. Effects of pe-
riodontal treatment on the medical status of patients with type 2 diabetes mellitus: a pilot study. BMC Oral Health, 17, n. 1, p. 77, Apr 2017.
HIRATA, T.; FUCHIDA, S.; YAMAMOTO, T.; KUDO, C. et al. Predictive fac-
tors for tooth loss during supportive periodontal therapy in patients with severe pe- riodontitis: a Japanese multicenter study. BMC Oral Health, 19, n. 1, p. 19, 01 2019.
HSU, P. C.; WU, H. K.; HUANG, Y. C.; CHANG, H. H. et al. The tongue fe-
atures associated with type 2 diabetes mellitus. Medicine (Baltimore), 98, n. 19, p. e15567, May 2019.
HUANG, S.; DANG, H.; HUYNH, W.; SAMBROOK, P. J. et al. The healing of
dental extraction sockets in patients with Type 2 diabetes on oral hypoglycaemics: a prospective cohort. Aust Dent J, 58, n. 1, p. 89-93, Mar 2013.
IACOPINO, A. M. Periodontitis and diabetes interrelationships: role of in- flammation. Ann Periodontol, 6, n. 1, p. 125-137, Dec 2001.
IZUORA, K.; EZEANOLUE, E.; SCHLAUCH, K.; NEUBAUER, M. et al. Im-
pact of periodontal disease on outcomes in diabetes. Contemp Clin Trials, 41, p. 93- 99, Mar 2015.
JEPSEN, S.; CATON, J. G.; ALBANDAR, J. M.; BISSADA, N. F. et al. Periodon-
tal manifestations of systemic diseases and developmental and acquired conditions: Consensus report of workgroup 3 of the 2017 World Workshop on the Classification of Periodontal and Peri-Implant Diseases and Conditions. J Periodontol, 89 Suppl 1,
p. S237-S248, Jun 2018.
KATAGIRI, S.; IZUMI, Y. [Diabetes and oral disease]. Clin Calcium, 22, n. 1, p.
-55, Jan 2012.
KING, G. L. The role of inflammatory cytokines in diabetes and its complica- tions. J Periodontol, 79, n. 8 Suppl, p. 1527-1534, Aug 2008.
LAKSCHEVITZ, F.; ABOODI, G.; TENENBAUM, H.; GLOGAUER, M. Diabe-
tes and periodontal diseases: interplay and links. Curr Diabetes Rev, 7, n. 6, p. 433- 439, Nov 2011.
LAUKKANEN, E.; VEHKALAHTI, M. M.; KOTIRANTA, A. K. Impact of sys-
temic diseases and tooth-based factors on outcome of root canal treatment. Int En- dod J, May 2019.
LIU, R.; BAL, H. S.; DESTA, T.; KROTHAPALLI, N. et al. Diabetes enhances periodontal bone loss through enhanced resorption and diminished bone forma- tion. J Dent Res, 85, n. 6, p. 510-514, Jun 2006.
MAJBAUDDIN, A.; TANIMURA, C.; AOTO, H.; OTANI, S. et al. Association
between dental caries indicators and serum glycated hemoglobin-levels among pa- tients with type 2 diabetes mellitus. J Oral Sci, 61, n. 2, p. 335-342, 2019.
MARIGO, L.; CERRETO, R.; GIULIANI, M.; SOMMA, F. et al. Diabetes melli-
tus: biochemical, histological and microbiological aspects in periodontal disease. Eur Rev Med Pharmacol Sci, 15, n. 7, p. 751-758, Jul 2011.
MORIMOTO-YAMASHITA, Y.; ITO, T.; KAWAHARA, K.; KIKUCHI, K. et
al. Periodontal disease and type 2 diabetes mellitus: is the HMGB1-RAGE axis the missing link? Med Hypotheses, 79, n. 4, p. 452-455, Oct 2012.
NAGUIB, G.; AL-MASHAT, H.; DESTA, T.; GRAVES, D. T. Diabetes prolongs
the inflammatory response to a bacterial stimulus through cytokine dysregulation. J Invest Dermatol, 123, n. 1, p. 87-92, Jul 2004.
NAZIR, M. A.; ALGHAMDI, L.; ALKADI, M.; ALBEAJAN, N. et al. The bur-
den of Diabetes, Its Oral Complications and Their Prevention and Management. Open Access Maced J Med Sci, 6, n. 8, p. 1545-1553, Aug 2018.
NEGRATO, C. A.; TARZIA, O. Buccal alterations in diabetes mellitus. Diabetol Metab Syndr, 2, p. 3, Jan 2010.
NISHIMURA, F. , IWAMOTO, Y., SOGA, Y. The Periodontal host response with diabetes, v. 43, p. 245-53, 2007. doi:10.1111/j.1600-0757.2006.00171.x
PACIOS, S.; KANG, J.; GALICIA, J.; GLUCK, K. et al. Diabetes aggravates pe- riodontitis by limiting repair through enhanced inflammation. FASEB J, 26, n. 4, p. 1423-1430, Apr 2012.
PIVARI, F.; MINGIONE, A.; BRASACCHIO, C.; SOLDATI, L. Curcumin and
Type 2 Diabetes Mellitus: Prevention and Treatment. Nutrients, 11, n. 8, Aug 2019.
RADOVIĆ, K.; OBRADOVIĆ-DJURIÄŒIĆ, K.; ÄŒAIROVIĆ, A.; GLIÅ
IĆ, M. et al. Prosthetic treatment after teeth extractions in patients with type 2 dia- betes mellitus. Srp Arh Celok Lek, 144, n. 9-10, p. 474-477, 2016 Sep-Oct 2016.
ROVAI, E. S.; SOUTO, M. L.; GANHITO, J. A.; HOLZHAUSEN, M. et al. Ef-
ficacy of Local Antimicrobials in the Non-Surgical Treatment of Patients With Pe- riodontitis and Diabetes: A Systematic Review. J Periodontol, 87, n. 12, p. 1406-1417, Dec 2016.
SALVI, G. E.; BECK, J. D.; OFFENBACHER, S. PGE2, IL-1 beta, and TNF-al-
pha responses in diabetics as modifiers of periodontal disease expression. Ann Pe- riodontol, 3, n. 1, p. 40-50, Jul 1998.
SANTOS TUNES, R.; FOSS-FREITAS, M. C.; NOGUEIRA-FILHO, G. A. R.
Impact of periodontitis on the diabetes-related inflammatory status. J Can Dent As- soc, 76, p. a35, 2010.
SESHIMA, F.; NISHINA, M.; NAMBA, T.; SAITO, A. Periodontal Regenerative Therapy in Patient with Chronic Periodontitis and Type 2 Diabetes Mellitus: A Case Report. Bull Tokyo Dent Coll, 57, n. 2, p. 97-104, 2016.
SISLI, S. N. Evaluation of the Relationship Between Type II Diabetes Mellitus and the Prevalence of Apical Periodontitis in Root-Filled Teeth Using Cone Beam Computed Tomography: An Observational Cross-Sectional Study. Med Princ Pract, Apr 2019.
STRUCH, F.; DAU, M.; SCHWAHN, C.; BIFFAR, R. et al. Interleukin-1 gene polymorphism, diabetes, and periodontitis: results from the Study of Health in Po- merania (SHIP). J Periodontol, 79, n. 3, p. 501-507, Mar 2008.
SUN, W. L.; CHEN, L. L.; ZHANG, S. Z.; REN, Y. Z. et al. Changes of adipo-
nectin and inflammatory cytokines after periodontal intervention in type 2 diabetes patients with periodontitis. Arch Oral Biol, 55, n. 12, p. 970-974, Dec 2010.
TAYLOR, G. W. Bidirectional interrelationships between diabetes and perio- dontal diseases: an epidemiologic perspective. Ann Periodontol, 6, n. 1, p. 99-112, Dec 2001.
THORSTENSSON, H.; KUYLENSTIERNA, J.; HUGOSON, A. Medical status
and complications in relation to periodontal disease experience in insulin-depen- dent diabetics. J Clin Periodontol, 23, n. 3 Pt 1, p. 194-202, Mar 1996.
XU, J. L.; MENG, H. X.; HE, L.; WANG, X. E. et al. The Effects of Initial Perio- dontal Therapy on the Serum Receptor Activator of Nuclear Factor-κβ Ligand/Os- teoprotegerin System in Patients With Type 2 Diabetes Mellitus and Periodontitis. J Periodontol, 87, n. 3, p. 303-311, Mar 2016.
YOO, J. J.; KIM, D. W.; KIM, M. Y.; KIM, Y. T. et al. The effect of diabetes on tooth loss caused by periodontal disease: A nationwide population-based cohort stu- dy in South Korea. J Periodontol, 90, n. 6, p. 576-583, Jun 2019.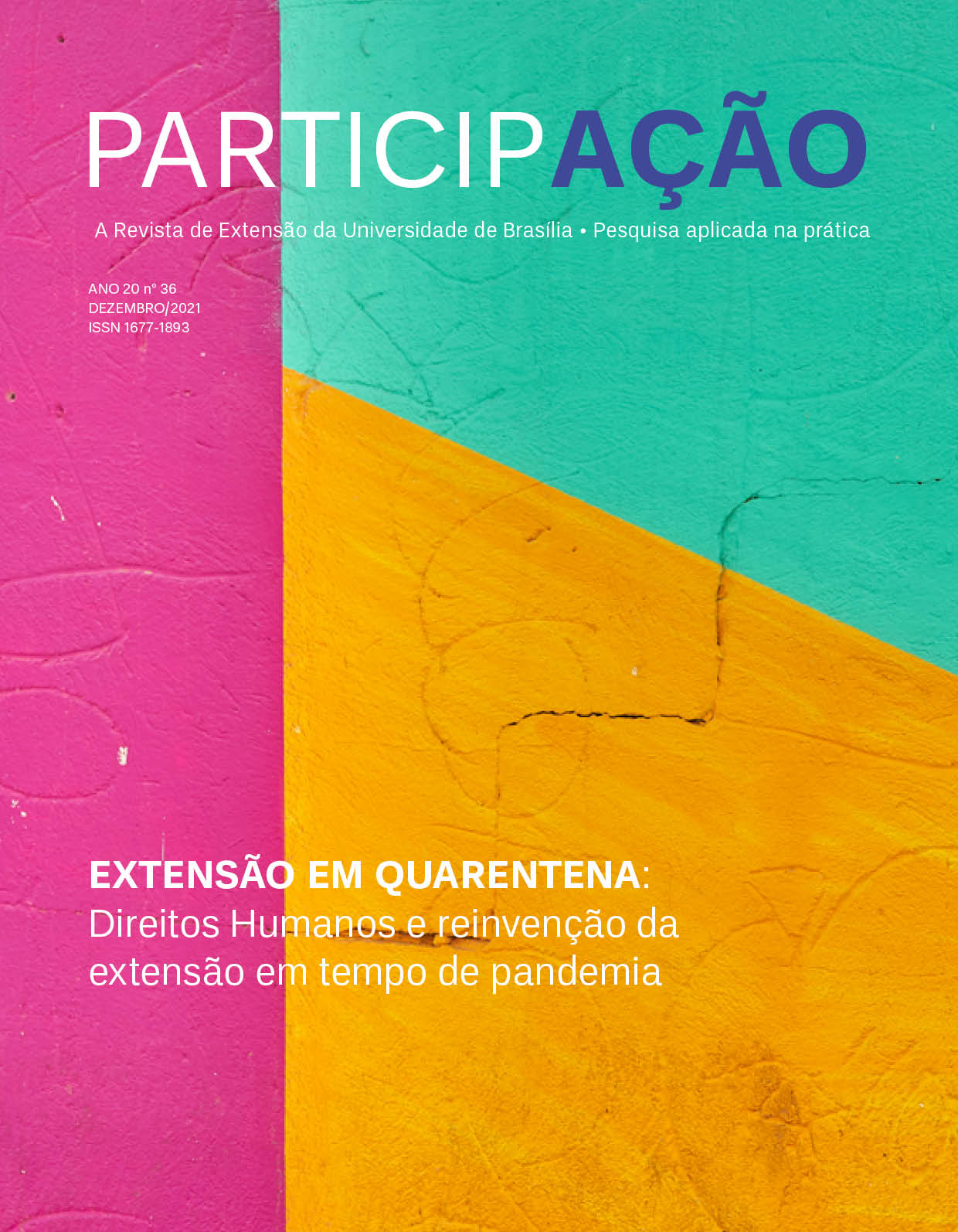 Downloads
Como Citar
MARIA DO CARMO MACHADO GUIMARÃES; BRUNA CASTRO MOREIRA; NAILÊ DAMÉ-TEIXEIRA; LOISE PEDROSA SALLES; LAUDIMAR ALVES DE OLIVEIRA; CRISTINE MIRON STEFANI; DANIELA CORRÊA GRISI. PROJETO DE EXTENSÃO UNIVERSITÁRIA EM SAÚDE BUCAL DE PACIENTES COM DIABETES MELLITUS DO DEPARTAMENTO DE ODONTOLOGIA DA UNIVERSIDADE DE BRASÍLIA – RELATÓRIO DE EXPERIÊNCIA: Oral health of Diabetes patients extension project of the Department of Dentistry, University of Brasilia. Participação, [S. l.], v. 20, n. 36, p. 70–82, 2022. Disponível em: https://periodicos.unb.br/index.php/participacao/article/view/45987. Acesso em: 2 abr. 2023.
Licença
Copyright (c) 2023 Participação
Este trabalho está licenciado sob uma licença
Creative Commons Attribution 4.0 International License
.
A Participação adota a Licença Creative Commons de Atribuição (CC-BY 4.0) em todos os trabalhos publicados, de tal forma que são permitidos não só o acesso e download gratuitos, como também o compartilhamento, desde que sem fins lucrativos e reconhecida a autoria.
As opiniões emitidas pelos autores são de sua exclusiva responsabilidade. No entanto, a revista se reserva o direito de efetuar, nos originais, alterações de ordem normativa, ortográfica e gramatical, com vistas a manter o padrão culto da língua e a credibilidade do veículo. Alterações, correções ou sugestões de ordem conceitual serão encaminhadas aos(às) autores(as), quando necessário.