Cultural prejudice on the speaking skill of students
Palavras-chave:
cultural lenses, multicultural education, prejudice reduction
Resumo
Considering the vital role of language teachers in combatting cultural prejudice in the classroom, this study aimed to explore the lived experiences of language teachers when cultural lenses affect their perception of students' speaking skills and cull out techniques in reducing cultural prejudice from their experiences. With phenomenology as its research design, Senior High School language teachers were interviewed, and their responses were transcribed, analyzed, and thematized. Two themes emerged reflecting the cultural prejudices of language teachers in the speaking skills of students – Fossilized Regional Defects and Low Communicative Delivery, and two cultural prejudice reduction strategies materialized – Maximize Profiling Strategies and Respecting Cultural Differences. This study concludes that reflecting on one'
Downloads
Não há dados estatísticos.
Referências
ARIZAGA, M.; BAUMAN, S.; WALDO, M.; CASTELLANOS, L. Multicultural sensitivity and interpersonal skills training for preservice teachers. The Journal of Humanistic Counseling, v. 44, n. 2, p. 198-208, 2005.
BANKS, J. Transforming the mainstream curriculum. Educational Leadership, p. 4-8, 1994.
BERG, B. L. Qualitative research methods for the social sciences. 2001. Retrieved from https://mthoyibi.files.wordpress.com/2011/05/qualitative-research-methods-for-the-social-sciences__bruce-l-berg-2001.pdf. Acess on November 20, 2015.
BOURNOT-TRITES, M.; BELLIVEAU, G.; SPILIOTOPOULOS, V.; SEROR, J. The role of drama on cultural sensitivity, motivation, and literacy in a second language concept. Journal for Learning through the Arts. v. 3, n. 1, p 1-35. 2007.
D'ANGELO, A.; DIXEY, B. Using multicultural resources for teachers to combat racial prejudice in the classroom. Early Childhood Education Journal. v. 29, n. 2, p. 83-87, 2001.
DE GUZMAN, A. Qualitative research designs and process seminar information map. Philippines: Saint Louis University, 2003.
DINCER, A. EFL learners' beliefs about speaking English and being a good speaker: A metaphor analysis. Universal Journal of Educational Research, v. 5, n. 1, p. 104-112, 2017.
EDDY, J. Through a cultural lens, darkly: Revelations on adaptability, perspectives, and applications for language teacher education. Forum on Public Policy, 1-13. 2006.
FOX, R.; GREENBERG, R Culture, multiculturalism and foreign/ world language standards in U.S. teacher preparation programs: toward a discourse of dissonance. European Journal of Teacher Education. v. 29, n. 3, p. 401–422, 2006.
KATES, S. A qualitative exploration into voter's ethical perceptions of political advertising: discourse, disinformation, and moral boundaries. Journal of Business Ethics. v. 17, p. 1871- 1885, 1998.
KOCYIGIT, S. Family involvement in preschool education: rationale, problems and solutions for the participants. Educational Sciences: Theory And Practice, v. 15, n. 1, p. 141-157, 2015.
MACEDO, A. Sociolinguistics. England: EFL/TESL Program, University of Birmingham. 2001.
MAKAROVA, E. A.; MAKAROVA, E. L. Culturally-based and culturally-biased aspects of knowing the other. Universal Journal of Educational Research, v. 2, n. 2, p. 181-187, 2014.
MAYKUT, P.; MOREHOUSE, R. Beginning qualitative research: a philosophic and practical guide. London: Falmer Press, 1994.
MCPHERSON, S.; TURNER, D.; KHAN, R.; HINGLEY, W.; TIGCHELAAR, A.; LAFOND, L. ESL and Canadian multiculturalism: Multilingual, intercultural practices for the 21st century. TESL Canada Journaurevuetesl Du Canada Special, v. 4, p. 1-22, 2004.
OBIEKEZIE, E. Fostering ethnic and religious harmony through classroom language experiences. Journal of Education and Practice, v. 6, n. 25, p. 55-61, 2015.
SENEFONTE, F. Language attitudes towards the non-native accent in the United States. Entretextos, Londrina, v. 16, n. 1, p. 99-113, 2016.
SONG, K.H.; DEL CASTILLO, A. NNESTs' professional identity in the linguistically and culturally diverse classrooms. International Journal of Educational Psychology, v. 4, n. 1, p. 54-83, 2015.
STUART, J. Prejudice in the ESL classroom. TESL Canada Journal. v. 23, n. 1, p. 63-75. 2005.
SUGIMURA, M. Roles of language in multicultural education in the context of internationalisation. Educational Studies in Japan: International Yearbook, v. 9, p. 3-15, 2015.
UKPOKODU, O. Pedagogies that foster transformative learning in a multicultural education course: A reflection. Journal of Praxis in Multicultural Education, v. 4, n. 1, 2009.
VELASCO, D. Evaluate, analyze, describe (EAD): Confronting underlying issues of racism and other prejudices for effective intercultural communication. The IAFOR Journal of Education, v. 3, n. 2, p. 82-93, 2015.
YURDAKUL, B. Perceptions of elementary school teachers concerning the concept of curriculum. Educational Sciences: Theory and Practice, v. 15, n. 1, p. 125-139, 2015.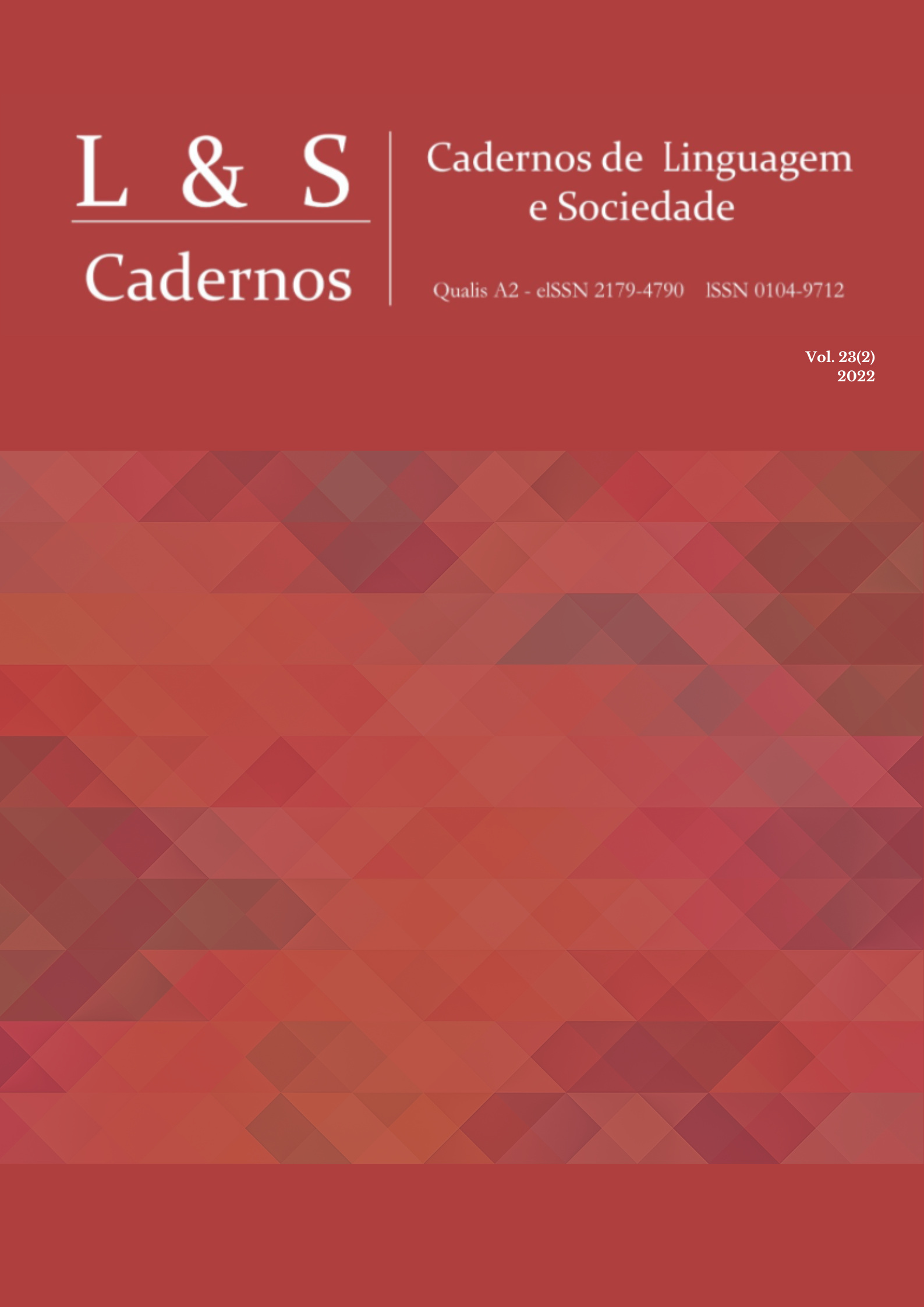 Downloads
Como Citar
Najchuman, M., & Castillo, L. (2022). Cultural prejudice on the speaking skill of students. Cadernos De Linguagem E Sociedade, 23(1), 3–16. https://doi.org/10.26512/les.v23i1.38406
Licença
Copyright (c) 2022 Cadernos de Linguagem e Sociedade do Programa de Pós-Graduação em Linguística da UnB é licenciado sob uma Licença Creative Commons Atribuição-Uso não-comercial-Vedada a criação de obras derivadas 3.0 Unported.
Este trabalho está licenciado sob uma licença
Creative Commons Attribution 4.0 International License
.
Autores/as que publicam nesta revista concordam com os seguintes termos:
Autores/as mantêm os direitos autorais e concedem à revista o direito de primeira publicação, sendo o trabalho simultaneamente licenciado sob a Creative Commons - Atribuição-NãoComercial 4.0 Internacional o que permite o compartilhamento do trabalho com reconhecimento da autoria do trabalho e publicação inicial nesta revista.