O amor como estado da alma (páthos) em Plotino
Keywords:
Amor puro, amor misto, alma, belo, eternidade
Abstract
Este estudo objetiva analisar o primeiro capítulo do tratado III, 5 [50], Sobre o amor, no qual Plotino discorre acerca do amor entendido como estado da alma (páthos). O amor estado da alma é característico do vivente, ou seja, o composto alma e corpo, e portanto, é o amor do homem no mundo sensível. Apresenta-se sob duas formas, puro e misto. O primeiro é aquele que deseja a beleza, o segundo deseja a beleza e a eternidade. Ao explicar cada uma das formas deste amor, Plotino envereda por temas fundamentais à  sua filosofia, tais como o belo, a contemplação, além da própria definição de homem.
Downloads
Download data is not yet available.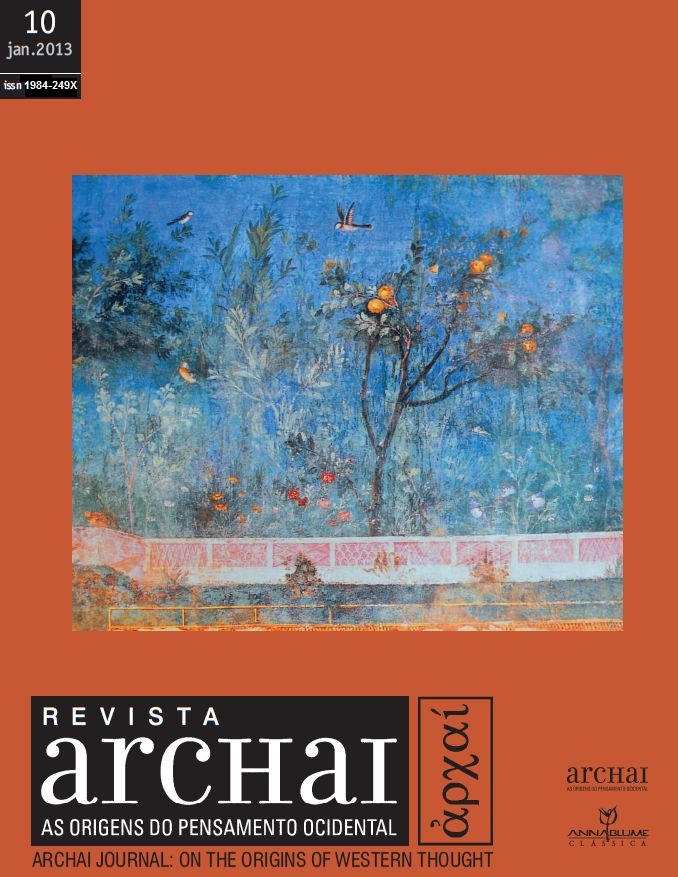 Downloads
How to Cite
Oliveira, L. (2013). O amor como estado da alma (páthos) em Plotino. Revista Archai, (10), 85. Retrieved from https://periodicos.unb.br/index.php/archai/article/view/8367
License
Given the public access policy of the journal, the use of the published texts is free, with the obligation of recognizing the original authorship and the first publication in this journal. The authors of the published contributions are entirely and exclusively responsible for their contents.
1. The authors authorize the publication of the article in this journal.
2. The authors guarantee that the contribution is original, and take full responsibility for its content in case of impugnation by third parties.
3. The authors guarantee that the contribution is not under evaluation in another journal.
4. The authors keep the copyright and convey to the journal the right of first publication, the work being licensed under a Creative Commons Attribution License-BY.
5. The authors are allowed and stimulated to publicize and distribute their work on-line after the publication in the journal.
6. The authors of the approved works authorize the journal to distribute their content, after publication, for reproduction in content indexes, virtual libraries and similars.
7. The editors reserve the right to make adjustments to the text and to adequate the article to the editorial rules of the journal.