Exemplo ou contraexemplo?
O caso de uma estátua nas Enéadas de Plotino
Keywords:
Plotino (c. 205-271), Fídias, estética, arte, imitação, contemplação
Abstract
Este artigo é uma reflexão acerca de um exemplo dado por Plotino "" a estátua do Zeus Olímpio de Fídias, em V. 8 [31] 1. 38-40 "" para ilustrar uma tékhne que não é mímesis da natureza. Meu objetivo é verificar se o Zeus de Fídias de fato exemplifica tal tékhne, averiguando a consistência desse exemplo e sua coerência com as considerações plotinianas sobre a beleza e as artes. Embora sugira algumas interpretações para o exemplo, este trabalho é inconclusivo, uma vez que apenas coloca o exemplo em dúvida.
Downloads
Download data is not yet available.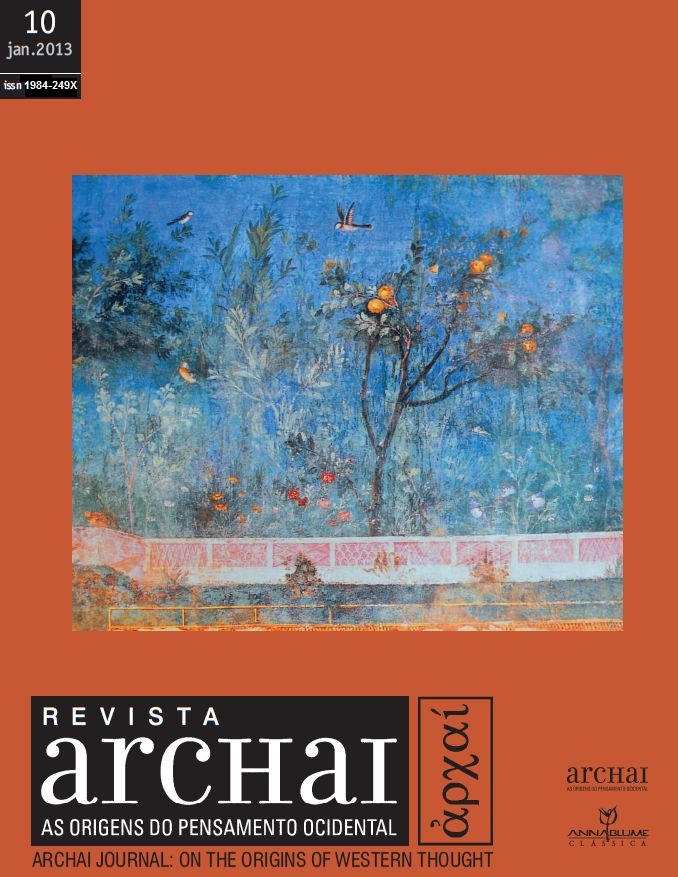 Downloads
How to Cite
Baracat Júnior, J. (2013). Exemplo ou contraexemplo? O caso de uma estátua nas Enéadas de Plotino. Revista Archai, (10), 73. Retrieved from https://periodicos.unb.br/index.php/archai/article/view/8366
License
Given the public access policy of the journal, the use of the published texts is free, with the obligation of recognizing the original authorship and the first publication in this journal. The authors of the published contributions are entirely and exclusively responsible for their contents.
1. The authors authorize the publication of the article in this journal.
2. The authors guarantee that the contribution is original, and take full responsibility for its content in case of impugnation by third parties.
3. The authors guarantee that the contribution is not under evaluation in another journal.
4. The authors keep the copyright and convey to the journal the right of first publication, the work being licensed under a Creative Commons Attribution License-BY.
5. The authors are allowed and stimulated to publicize and distribute their work on-line after the publication in the journal.
6. The authors of the approved works authorize the journal to distribute their content, after publication, for reproduction in content indexes, virtual libraries and similars.
7. The editors reserve the right to make adjustments to the text and to adequate the article to the editorial rules of the journal.