Does Aristotle have a dialectical attitude in EE I 6? A negative answer
Keywords:
Dialectic, Causality, Endoxa, Phainomena
Abstract
In this paper, I analyse EE I 6, where Aristotle presented a famous methodological digression. Many interpreters have taken this chapter as advocating a dialectical procedure of enquiry. My claim is that Aristotle does not keep a dialectical attitude towards endoxa or phainomena in this chapter. In order to accomplish my goal, I shall show that EE I 6 does not provide enough evidence for the dialectical construal of it, and that this construal, in turn, hangs on some assumptions brought out from other Aristotelian works (EN and Top.), which do not provide good evidence either. By the examination of these assumptions, I intend to show that Aristotle is not carrying out any sort of dialectic, especially dialectic conceived as conceptual analysis seeking to save phainomena or endoxa.
Downloads
Download data is not yet available.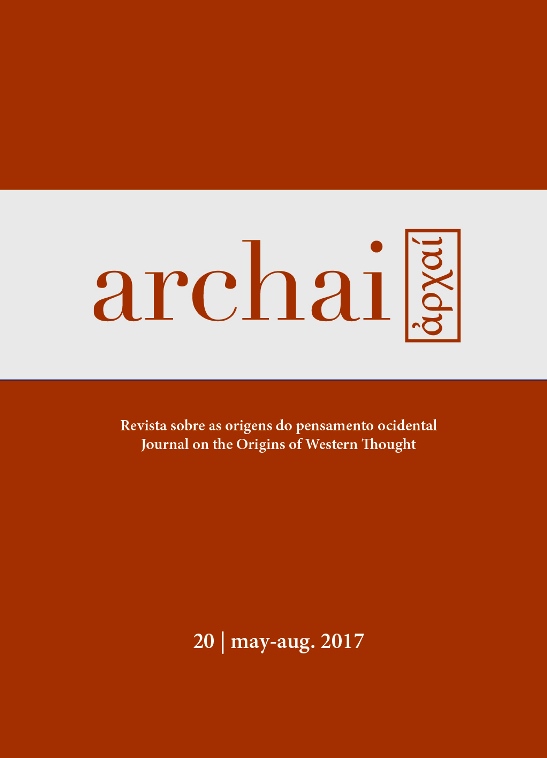 Downloads
How to Cite
Mendonça, F. (2017). Does Aristotle have a dialectical attitude in EE I 6? A negative answer. Revista Archai, (20), 161. https://doi.org/10.14195/1984-249X_20_7
License
Given the public access policy of the journal, the use of the published texts is free, with the obligation of recognizing the original authorship and the first publication in this journal. The authors of the published contributions are entirely and exclusively responsible for their contents.
1. The authors authorize the publication of the article in this journal.
2. The authors guarantee that the contribution is original, and take full responsibility for its content in case of impugnation by third parties.
3. The authors guarantee that the contribution is not under evaluation in another journal.
4. The authors keep the copyright and convey to the journal the right of first publication, the work being licensed under a Creative Commons Attribution License-BY.
5. The authors are allowed and stimulated to publicize and distribute their work on-line after the publication in the journal.
6. The authors of the approved works authorize the journal to distribute their content, after publication, for reproduction in content indexes, virtual libraries and similars.
7. The editors reserve the right to make adjustments to the text and to adequate the article to the editorial rules of the journal.